Yotta Advanced Computing is collaborating with China's no. 1 HPC vendor!
date: 27.06.2017
category: What's new
Yotta and Sugon announced a parthership and signed a strategic alliance agreement. This is a huge step for Yotta, but also an important for Sugon, since it is only beginning to spread to the European market!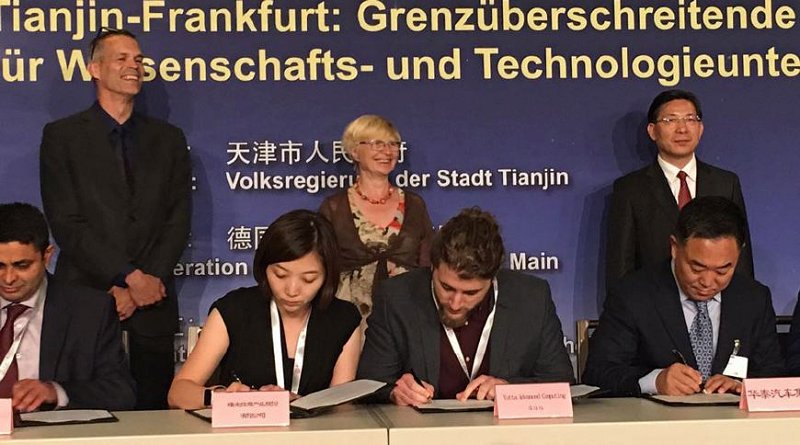 Last week, Yotta Advanced Computing signed a strategic alliance agreement with Sugon, which is a leading enterprise in the field of high-performance computing, server, storage, cloud computing and big data in China. It is a national high-tech enterprise formed on the foundations of the significant scientific and technological achievements with the strong support of the Chinese Academy of Sciences.
In the field of high-performance computing (HPC, supercomputing), Sugon is the largest manufacturer in Asia and the first manufacturer to bring Chinese HPCs to the top 3 worldwide. Sugon has held pole position in China's TOP 100 rankings of HPC by market share for eight consecutive years, from 2009 to 2016. Besides, it has mastered a series of core technologies of HPC and gradually achieved industrialization, which has provided solid technical support for China's advancement of fundamental scientific research, significant scientific equipment and industrial development. Sugon is worth more than 2 billion euros.
We have collaborated with Sugon before. In 2016., we helped them deliver their first HPC system to the European market. With this partnership now being official, we will now work even closer together to advance and promote HPC products and services in Croatia and the rest of Europe. We will now be able to offer better terms and competitive prices for bare hardware, but also for complete solutions. This will have a positive impact on the market, and will allow more and more small and medium companies to advance their business with HPC.
We see our collaboration resting on three pillars. First, we hope to collaborate on R&D in the field of HPC, share knowledge and best practices in order to improve product and services, both from Sugon and Yotta. The other collaboration pillar is offering Sugon's hardware solutions in Europe and Croatia, which will definitely be interesting to a lot of companies. Finally, we will offer custom and specialized services to SMEs and other companies with the combination of Yotta's expertise in the field and Sugon's hardware solutions.
We would also like to point out that we would like to collaborate with Chinese investors to open a international research center in Croatia, for HPC and computer science, but also for other sciences which use computing power for research. That would be a great step forward, giving Croatian businesses an opportunity to collaborate with Chinese investors, but also a way for them to enter the huge Chinese market.
These news have also been published on a few local and Chinese webistes:
https://www.xcnnews.com/kj/70203.html
http://www.poslovni.hr/domace-kompanije/rijecka-tvrtka-potpisala-sporazum-o-suradnji-s-najvecim-proizvoacem-superracunala-u-kini-329308
https://digitalno.hr/2017/06/26/rijecka-yotta-suraduje-s-najvecim-kineskim-proizvodacem-superracunala/
http://www.poslovni.hr/tehnologija/radit-ce-za-kineska-superracunala-329330
our projects
A small selection from the 1024 things we do